Daily Painting - The Guitar Lesson -
©2011 Amy-Elyse Neer
6" x 9" Watercolor on Montval Watercolor 140lb Cold Press Block
Daily Painting for 1-5-2011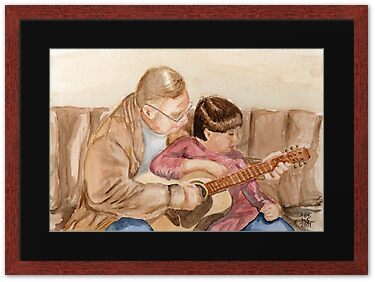 My Dad plays bluegrass guitar. When I was young he tried to teach me several times how to play, and I could learn a song just copying him and then I would promptly forget how and he'd try again. I think the fail for me was the same reason I can't do math... that part of my brain just doesn't work right. I was always happier singing anyway.
Now that he has two grandsons he gets another chance to pass on his music. This is a painting (done from a photo reference) of him teaching my youngest nephew to play. I am assuming he is teaching him "
Under the Double Eagle
" or "
The Dill Pickle Rag
" since those are the two I remember him trying to teach me the most often.
( those links go to youtubes of Chet Atkins playing the songs if you are curious, I'd upload my dad playing them but I can't think of anything that would take longer or annoy my dad more than explaining to him over the phone how to use the computer to do that)