Okay, today's has a progression, although a short one, here is the base graphite sketch, This was done with a Derwent Sketch and Wash Graphite HB pencil.
Once it was dried I scanned it in and then did the watercolor over it.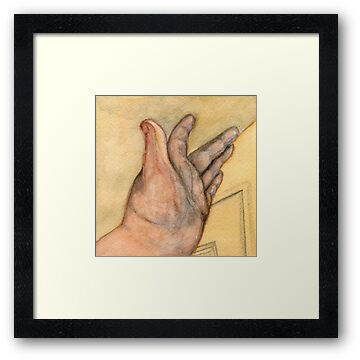 Daily Painting - The Left Hand -
©2010 Amy-Elyse Neer
6" x 6" Watercolor and Graphite on Strathmore 140 lb Watercolor Cold Press Paper
Daily Painting for 11-23-2010
I like the effect, but I am wondering if maybe watercolor pencil or acrylic paint would have worked a little better, not because I don't like how it turned out, but the paper wasn't happy about the multiple wettings. Or maybe I should have used Aquabord, but for a technique I have never tried before, I didn't want to risk one (I've only got two left and blick's are backordered on them, big time)
I think when I do the right hand I will use watercolor pencil OVER the washed graphite.
and also this is making me want to try liquid pencil.