- Hiding Behind the Drapes -
©2010 Amy-Elyse Neer
5" x 7" Watercolor on Strathmore 140 lb Watercolor Cold Press Paper
Daily Painting for 11-27-2010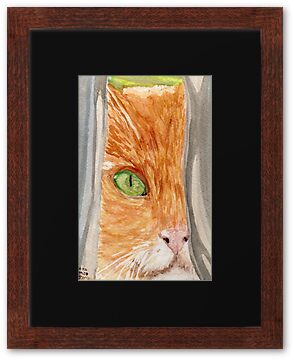 Friend Zelda is a very nice little guy, even though he is insane and not the brightest crayon in the box.
The other day he was sleeping on the windowsill. The sun had briefly put in an appearance so he was warming up.
Then he heard me eating something at my desk, and the something had a crinkly plastic wrapper. So he had to investigate and stalk it.
At this point in the stalking process, he believes he is hiding; Despite the fact that I can see him, have gotten out the camera to take reference pictures and the three small children outside screaming
"ORANGE KITTYYYY!!!!!! HELLLLLLOOOOO ORANGE KITTTTTTYYYYYYY"
at him.