Yesterday I was out, and the daily was little more than a doodled ACEO, I'm not listing it for sale anywhere
"Peacock Feathers" MultiColor Pencil on Smooth Bristol ACEO stock
©2010 Amy-Elyse Neer
Today's was an Arfé Painting which is Brewed Coffee as the only pigment.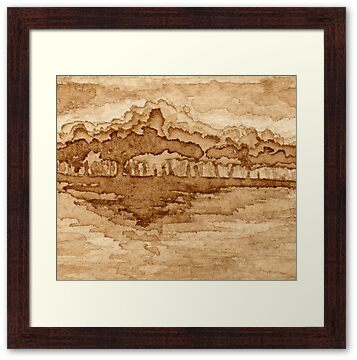 "Coffee Island"
Coffee on Watercolor ACEO Cardstock
©2010 Amy-Elyse Neer
The Original is NFS right now, mainly because I am trying to decide on which venue I am moving the originals to, but partially because Coffee Painting is sort of a transient medium and I am worried about color shift and lighfastedness, so I am going to start investigating ways to protect them from deterioration. So to get it good and fresh, a Print is the way to go, there may be some color shift on the original.