That if I update things like my CV and such as interesting things, art wise, happen to me it would be better. Like I wouldn't have to go searching for links and how much a thing sold for, and what exactly the details of the show were in one big chunk of annoying computer-ness every six months or so.
Also, I know that it's better to keep everything current because it's more impressive than "Nothing for six months and then sudden spew of stuff"
So, to that end, I've added my CV to my blog (You can view it by going to that page from the nav bar above). Because it will be easier and quicker to update than refreshing the CV .pdf on my website.
AND, I have decided I like the idea of a weekly "I really like how this turned out and I am surprised no one else seems to" Post.
So here is the first one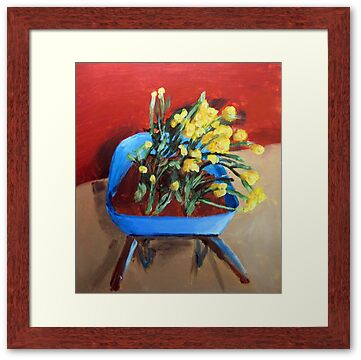 The story behind this Painting;
On the shores of Lake Tahoe, at Emerald Bay, there is a Historical Landmark mansion called
Vikingsholm
.
Lake Tahoe, as you may know, is nestled in the Sierra Nevada Mountains, and being so high up has a very short summer, weather wise. One spring when I was there, there were wheelbarrows of spring flowers around waiting to be put out in garden beds, including this lovely blue wheelbarrow overflowing with golden daffodils. The sunlight was filtering through the trees and the blooms were glowing from it. It occurred to me that it was kind of charming that spring arrived in wheelbarrows full of flowers.
It is 16"x20" on a Canvas Panel.
For prints and cards Click on the Image above.